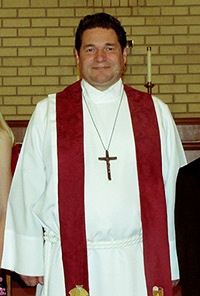 The Reverend Guillaume Williams is the Pastor of Hope Lutheran Chapel of Osage Beach, Missouri. He began his pastoral ministry with Hope Lutheran Chapel in 2005 and has more than 20 years experience preaching the Word of God.
Spreading the word of God is at the top of his list when it comes to what he likes most. "Being able to give away the salvation to eternal life earned for us by Jesus Christ through His suffering, death and resurrection. It's the best deal I know, salvation free and true."
"My objective is to never meet anyone without having introduced them to Jesus."
As a native of New Orleans, Louisiana, Rev. Guillaume Williams earned his degree from Louisiana State University in 1988, attended LSU Law School and graduated from Concordia Seminary in St. Louis in 1995 with a master of divinity degree. He received an S.T.M. in Church History from Concordia Seminary in 2014.
He and his family moved to Osage Beach, Missouri from Oklahoma and has since enjoyed the Ozark Mountains environment. His ministry at Hope Lutheran Chapel deals with local, many of whom are retirees, and vacationing people as the Lake of the Ozarks is a popular resort community.
His main goal at Hope Lutheran Chapel is to preach Jesus Christ crucified to a community in which only half the population belong to a Christian congregation.
He and his wife have six children: Chad, Guillaume, Jr., Marie, Adele, Constantin and Maximilienne. One serves in the Navy is married and has a child, the other five are home schooled by their talented mother
To learn more about The Reverend Guillaume Williams' experience and background view his LinkedIn profile.